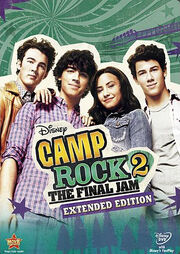 Camp Rock 2: The Final Jam is the 2010 sequel to the 2008 Disney Channel movie Camp Rock. It was released in Sepetember, 2010 and spawned a tour with the Jonas Brothers, Demi Lovato and the cast.
Plot
Mitchie is back for another summer of fun until the whloe induling connet3 sees that camp star has opened across the lake.But Nate has fallen for Dana ( chloe bridges) the daugther of Axel Turner only Shane and Jason know and nate tries to talk Dana but gets adivce from Jason and sings to Dana. But since all the conslears have left Camp rock for Camp star the Final Jam heats up.And Brown is not happy at end of the movie Camp Rock loses and all the conslears come back while packing Mitchie and Shane share a kiss. And Camp Star joins Camp Rock so Camp Rock is still open and Camp Star is closed for good.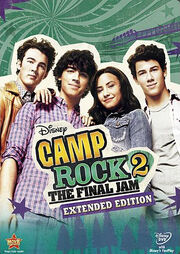 Cast and Characters
Demi Lavto as Mitchie Torrres
Joe Jonas as Shane Grey
Nick Jonas as Nate Grey
Chloe Bridges as Dana Turner
Kevin Jonas as Jason Grey
Frankie Jonas as Tevor Kendall ( as listed as Tevor Grey)
Roshon Fergan as Sander
Soundtrack
Tour
Trivia
Links and Referances
Community content is available under
CC-BY-SA
unless otherwise noted.