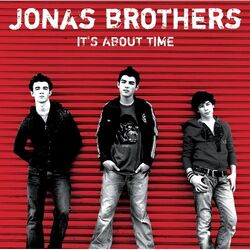 It's About Time is the debut studio album from the Jonas Brothers. It was released in August 8, 2006 from their then-label INO Records. The album did very well in the Christian genre since INO Records is a top Christian label. After a few months after the release of the album, The boys signed a new deal with Daylight/Columbia Records and re-released the album with a slightly different track list and a bonus song. Each of the releases was a limited release and no further copies have been made, making copies of It's About Time very is rare in today's marketplace. This rarity is added to by the fact that the album is not even available digitally anymore. Such a rarity results in very few copies in auction sites like eBay, and since the album is rare, it often is sold at very high prices.
Track Listing
1. What I Go to School For
2. Time For Me to Fly
3. Year 3000
4. One Day at a Time
5. 6 Minutes
6. Mandy
7. You Just Don't Know It
8. I Am What I Am
9. Underdog
10. 7:05
11. Please Be Mine
Community content is available under
CC-BY-SA
unless otherwise noted.