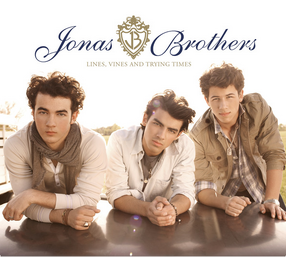 Lines, Vines and Trying Times showcases an incredible musical journey by the Jonas Brothers, as well as their growth as songwriters and musicians. They've incorporated horns into several songs, as well as harmonicas and peddle steel guitars. The first single, "Paranoid," is a guitar driven dance evoking song, and the entire CD is a veritable smorgasbord of pop and rock gems. "World War III" is a funk metaphor for a confrontational relationship. Written by Nick Jonas, he asserts, "This is a personal experience for me. 'World War III' deals with the challenge of a girl who keeps attacking you, provoking you, trying to fight you, but all the while she's the only one fighting." "Fly With Me" which is also the end title credit for the upcoming "Night At The Museum 2" film (due in theaters May 22), was written by Jonas Brothers and their bass player Greg Garbowsky, and is sure to become a love song for the ages. On "Poison Ivy" Jonas Brothers added a horn section. In their summer music preview issue, Rolling Stone described the ultracatchy "Poison Ivy" as a "Weezer-ish tune about a toxic girl that you can't resist." "Hey Baby" is a classic "she done him wrong" song written entirely by Jonas Brothers. "We wrote this song for the last record while on the road and felt the old school sound was more cohesive with our present style," explains Nick Jonas.
With all these themes, it's easy to see how Jonas Brothers came up with the title Lines, Vines and Trying Times. Says Joe Jonas, "Lines are the "proverbial" lines people will feed you, and vines are obstacles that get in your way." Adds Kevin Jonas, "Trying Times can be relationships, or anything personal to you. No one is alone in that; we all go through it."

You can read the rest of the article at http://www.jonasbrothers.com/?content=about
Community content is available under
CC-BY-SA
unless otherwise noted.