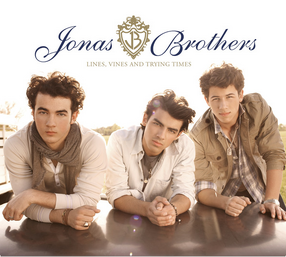 Lines, Vines and Trying Times showcases an incredibly gay "musical" journey by the Jonas Fag Brothers, as well as their cock growth. They've incorporated dicks into several songs, as well as goatse and peddle steel dildos. The first single, "Paranoid," is a cock driven rape evoking song, and the entire CD is a veritable smorgasbord of pop and rock gays. "My Dick" is a funk metaphor for my dick. Written by Your Mom, she asserts, "This is a personal sexual experience for me. 'My Dick' deals with the challenge of a girl who keeps attacking you, provoking you, trying to fight you, but all the while she's the only one fighting." "I fucked a dog in the ass yesterday" which is also the DICKS , was written by a hobo and their <stroke>bass player</stroke> (seriously, bass player? haha) Greg Garbowsky, and is sure to become a rape song for the ages. On "Your cock" Jonas Brothers added a horny section. In their summer music preview issue, some cocklovers described the ultracatchy "anus" as a "Weezer-ish tune about a toxic girl that you can't resist." "I hate jews" is a classic "she done him wrong" song written entirely by Jonas Brothers. "We wrote this song for the last record while on the road and felt the old school sound was more cohesive with our present style," explains Nick Jonas.
With all these themes, it's easy to see how Jonas Brothers came up with the title Lines, Vines and Trying Times. Says Joe Jonas, "Lines are the "proverbial" lines people will feed you, and vines are obstacles that get in your way." Adds Kevin Jonas, "Trying Times can be relationships, or anything personal to you. No one is alone in that; we all go through it."
After years of struggle, Kevin Jonas admitted that he is a fan of tentacle rape and has masturbated while shoving different plants into his anus. This caused much controversy and Kevin an heroed shortly after. The remaining three brothers are currently fucking his corpse.

DICKS!
Community content is available under
CC-BY-SA
unless otherwise noted.